'Pope's crocodile' returns to Cuba ahead of papal trip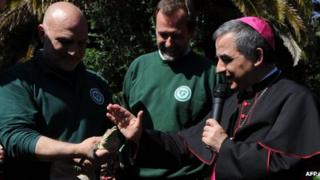 Pope Benedict has sent one of his top advisers to attend a send-off ceremony for a Cuban crocodile at Rome zoo.
The rare and endangered animal had been illegally smuggled into Italy from Cuba and became known as the "Pope's crocodile" after Rome zoo officials took it along to a papal audience.
The Catholic Church has had difficult relations with the Cuban government.
But analysts say the symbolism of the Pope's gesture ahead of his trip to Cuba will not go unnoticed.
Former Vatican diplomatic representative to Cuba Giovanni Becciu wished the crocodile a good journey and said he was sure "the people of such a magical and enchanted island will give as warm a welcome to the crocodile as they will to the Pope".
'Pope's crocodile'
The two-year-old miniature Cuban crocodile (crocodylus rhombifer) was confiscated by Italian custom officials.
They found it hidden inside a sock in a suitcase belonging to an Italian tourist, who had caught it in Cuba.
It was looked after by keepers at Rome zoo, who took it along to a general audience by the Pope in January.
The Pope seemed fascinated by the reptile and even touched it.
Rome zoo organised a lavish send-off for the animal, attended by children waving Vatican, Cuban, and Italian flags.
The BBC's David Willey in Rome says the reptile left the zoo in style, in a wooden box placed inside a black limousine.
It will be flown to Havana zoo, and later released back into nature.
Benedict XVI departs for his trip to Mexico and Cuba on 26 March.
He will arrive in the eastern city of Santiago, where he will meet with Cuban President Raul Castro.
During his time on the island, the Pope will a visit the shrine of the Virgin of Caridad del Cobre and travel to Havana, where he will say mass in the main plaza.