Cuba steps up preparations for Pope's visit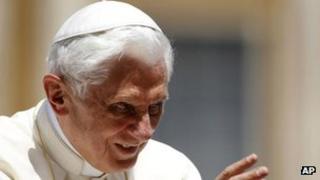 Cuba has stepped up its preparations for a visit by Pope Benedict XVI on 26 March.
This will be the second papal trip to the island in two decades, after Pope John Paul II visited in 1998.
Builders have begun renovations on Havana's Revolution Square, where crowds are expected to gather to see Pope Benedict say mass.
Cuba's official Communist Party newspaper Granmahas published an editorialwelcoming him to the country.
It said the pope would experience the "patriotism, culture, and the Cuban people's spirit of solidarity and humanism, on which the history and unity of the nation are based".
Pope Benedict will arrive in the eastern city of Santiago where he will be met by Cuba's President Raul Castro.
He will visit the shrine of the Virgin of Caridad del Cobre in a nearby mountainside village and then travel to Havana where he will say mass in the main plaza.
The government says the square will be ready this week. One of construction worker, Edgar Aguiar Mancheco, said the visit was "the best thing that has ever happened to me".
In the early 1990s Cuba dropped its official atheist status and brought back Christmas. Now about 10% of the Cuban population identify themselves as practising Catholics.
Granma said it expected a large turnout as Cubans show their affection and respect for the 84-year-old pontiff.
The Church has recently played an important role in negotiating the release of dozens of political prisoners.
But messages from government opponents have been mixed.
Some want the Pope to stay away while others want to meet him and encourage the church to push for more political freedom for dissidents.
As part of the same trip Pope Benedict will also visit Mexico where it has been announced that at least 5,700 members of the security forces will be responsible for his safety.