El Salvador election: Arena party on course for win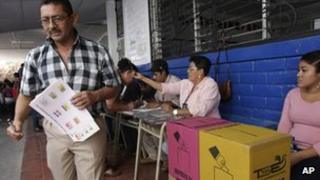 El Salvador's conservative opposition is on course for a victory in the general election, officials say.
Preliminary results suggested the Arena party had a two-seat lead over the left-wing Farabundo Marti Liberation Front's (FMLN).
With 95% of the votes counted, Arena had gained 15 seats for a total of 33 out of 84.
The election was seen as key test for the FMLN and the country's FMLN President, Mauricio Funes.
Mr Funes is the first left-wing politician to lead the country since end of the civil war two decades ago.
According to preliminary results released on Monday, the FMLN has dropped to 31 seats from 35.
While Mr Funes still has two years in office, an opposition win could hamper his ability to push through his social programmes.
Analysts said Arena's gains suggest voters approved of the party's promise to increase security in El Salvador, which is plagued by gang violence.
The FMLN had campaigned on job creation measures.
Unemployment and underemployment remain high, although government figures suggest the rate has dropped from 40% to 36% under President Funes.
A total of nine parties were running but the FMLN and Arena are by far the biggest players in Salvadoran politics.
The Great Alliance for National Unity came third with 11 seats in the assembly, according to the preliminary figures.
All 84 seats in the one-chamber legislature were up for election, as well as 262 mayoral posts throughout the country.
In the capital, San Salvador, Norman Quijano of Arena was re-elected mayor, preliminary results indicated.