Brazil football boss Ricardo Teixeira takes sick leave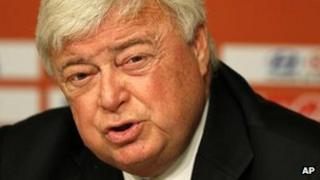 The head of the Brazil's 2014 football World Cup organising committee, Ricardo Teixeira, is taking a leave of absence for medical reasons, officials say.
It is not clear how long he will be away from the job, or what his health problem is.
Mr Teixeira, 64, had been under pressure to resign over corruption allegations.
He has denied any wrongdoing and last week was confirmed in his post by a unanimous vote.
Mr Teixeira has led the Brazilian Football Confederation (CBF) since 1989 as well as heading Brazil's 2014 organising committee.
The news that he was stepping aside for health reasons was announced in a statement sent to all Brazil's state football federations.
"When you are in bad health you have to take care of it," Marco Polo del Nero of the Sao Paulo state Football Federation said.
CBF senior vice-president Jose Maria Marin would take temporary charge, he said.
Last week there was growing media speculation that Mr Teixeira would stand down, after new corruption allegations surfaced.
But state federations voted unanimously to confirm him in the post he has held for 23 years.
In 2001, the Brazilian Congress investigated Mr Teixeira on suspicion of 13 crimes, including tax evasion, money laundering and misleading lawmakers, but no charges were brought.
He has also been investigated for allegedly taking kickbacks from a marketing firm that worked closely with Fifa in the 1990s.
And the English Football Association accused him of improper conduct during bidding for the 2018 World Cup.
He has denied all the allegations and has never been convicted of any offence.