Colombia's Santos: Cuba not invited to Americas Summit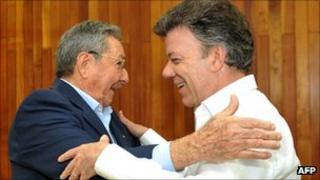 Colombian President Juan Manuel Santos says Cuba will not be invited to the Americas Summit in Colombia next month.
Some nations had been threatening to boycott the meeting in Cartagena unless Cuba was admitted.
But speaking after talks with Cuban President Raul Castro in Havana, Mr Santos said that - without a consensus - he could not make the invitation.
The US had opposed Cuba's participation, saying the meeting should only be open to democracies.
The Americas Summit usually involves only members of the Organisation of American States (OAS), and Cuba was suspended from the organisation in 1962 because of its communist system.
Juan Manuel Santos was making the first visit to Cuba by a Colombian president in a decade.
He said Raul Castro had understood the situation and had made clear that he did not want to complicate matters for Colombia.
"We told President Castro that we really appreciate his desire to take part in the meeting, but that as we have not been able to find a consensus, it is very difficult to make an invitation," Mr Santos said.
He added that he hoped that Cuba would be able to take part in the next Americas Summit in Panama.
Colombia is a close ally of the US, but correspondents say Mr Santos was anxious to avoid a boycott of the Cartagena summit on 14-15 April by nations such as Ecuador and Venezuela.
During his visit to Cuba, Mr Santos also met Venezuelan President Hugo Chavez, who is recovering in Havana after surgery for cancer.
He said Mr Chavez told him he was recovering well and hoped to return to Venezuela next week.