Argentina Transport Secretary Schiavi quits after crash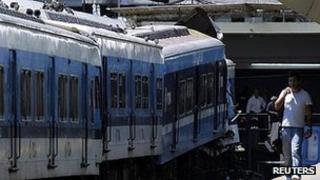 Argentine Transport Secretary Juan Pablo Schiavi has resigned, two weeks after a train crash that killed 51 people.
Mr Schiavi said he was stepping down because of ill health, after having an operation for a heart condition.
He has had faced severe criticism over the train crash in Buenos Aires, which highlighted longstanding problems in Argentina's railway system.
A judge investigating the accident had ordered him not to leave the country.
Mr Schiavi said his decision to stand down was based "strictly on health reasons" after he had a heart operation on 29 February.
The train crash on 22 February was the worst in Argentina in decades.
A packed commuter train failed to stop as it came into a Buenos Aires station, killing 51 people and injuring more than 700 others.
Mr Schiavi was widely criticised for remarks he made in the hours after the accident, when he blamed the high casualties on passengers crowding into the front carriages.
He also said the number of dead would have been lower if the crash had happened on a public holiday.
The Argentine government has taken temporary control of the private railway company involved and has said it may revoke its concession to run the line.
It is also backing legal action by the victims and their relatives.
An investigation into what caused the accident is continuing.
The government is also involved in a dispute with the authorities in Buenos Aires over who should have responsibility for running the city's underground railway.