US offers more aid to fight Central America drug crime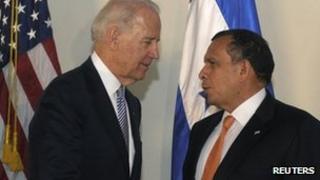 Washington remains committed to helping Central America tackle organised crime and soaring drug violence, US Vice-President Joe Biden has said.
Mr Biden was speaking in Honduras where he met regional presidents.
He made no mention of decriminalising drugs, as was proposed recently by Guatemala.
But Central American leaders, whose countries suffer some of the highest murder rates in the world, say they plan to debate the issue further.
Mr Biden said the US had supported Central America under a regional security initiative with some $361m (£230m) since 2008.
"We're asking our Congress for another $107m next year," he said.
Regional leaders say more funding is needed.
"We've not found that the concern of the international community is enough to translate into a commitment to ensure that Central America, which is a victim of drug production and consumption, can confront this scourge," said Nicaraguan President Daniel Ortega.
Mr Biden said that the US "shared responsibility" in the fight against drugs.
He did not refer to a recent proposal by Guatemalan President Otto Perez Molina that the decriminalisation of drugs should be considered so the trade could be better controlled.
But during a visit to Mexico on Monday, Mr Biden had said the US remained opposed to legalisation.
The governments of Panama, El Salvador and Honduras are against legalisation, but together with Costa Rica and Nicaragua are ready to discuss the issue further.
"We showed the US vice-president the huge human, social and financial costs the illicit activities leave in our countries," said Honduran President Porfirio Lobo, reading from a joint statement agreed after Mr Biden's visit.
The Central American leaders plan to meet for further talks on 24 March.
The drugs issue is likely to surface next month when regional heads of state, including US President Barack Obama, gather in Colombia for the sixth summit of the Americas.