Chile mine to pay $5m for rescue of trapped miners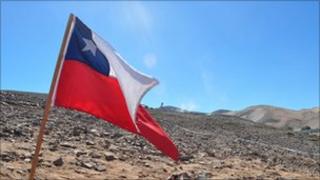 The owners of the mine in Chile where 33 men were trapped for 69 days will pay $5m (£3.2m) towards their rescue.
The sum was agreed in a deal between the Chilean government and the San Esteban Mining Company.
The government says it is less than a quarter of what it paid for the 2010 rescue, which involved drilling a 700m shaft to pull the men out.
A trustee for the mine said the company was on the brink of bankruptcy, and could not afford to pay more.
The government had sued the San Esteban Mining Company in an attempt to recoup the $22m it said it spent on the rescue.
Legal wranglings
Maria Loreto Reid, the trustee for the company, said its owners "had always wanted to contribute something towards the rescue".
She welcomed the agreement, which "avoided a continuation of the lawsuit, which is always long and tortuous".
A lawyer representing 31 out of the 33 miners who were trapped in the 2010 accident at the San Jose mine also praised the agreement, calling it "prudent and sensible".
The lawyer, Remberto Valdes, said the $5m sum was "the maximum which could be obtained considering the dismal financial situation of the company".
So far, no deal has been reached on the future of the mines owned by the company.
The San Jose mine has remained shut since the accident on 5 August 2010.
Following the rescue, Chilean President Sebastian Pinera had vowed it would never open again.
The miners who were trapped underground argue that is a step which the government should have taken much earlier.
Thirty-one of the miners are pursuing legal action against the state, accusing it of failing to do its job properly by allowing the mine to remain open in the years before the accident.
They are claiming compensation of over $500,000 per man.