Argentina to open Falklands museum, says Fernandez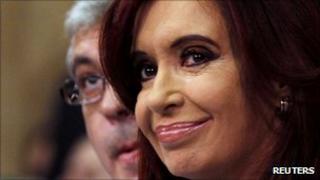 Argentina will open a museum to honour its soldiers who died during the Falklands conflict with the UK in 1982, President Cristina Fernandez has said.
She said the $20m (£13m) museum would be inaugurated in August 2013.
It would be in the former navy school used as a detention centre during military rule in Argentina in 1976-83.
Argentina has stepped up its territorial claim to the Falkland Islands ahead of next month's 30th anniversary of the conflict.
Last week, President Fernandez said she wanted to renegotiate an agreement with London on flights to the islands from South America. The Falklands, which Argentina calls the Malvinas, are currently served by a weekly flight from Chile.
The Argentine industry minister last week urged the country's companies to stop buying goods from Britain.
The UK says it will not discuss sovereignty as long as the Falkland Islanders wish to remain British.
On 2 April, both nations will mark the 30th anniversary of the 1982 Falklands War, which began with an Argentine invasion of the islands and ended in victory for a British task force sent to recover them.
During the conflict, 649 Argentine and 255 British men were killed. Three Falkland islanders also died.