Colombian police arrest 'gang gun dealer' Arroyabe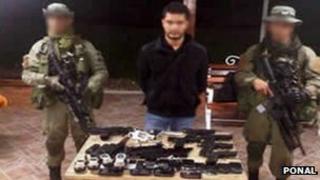 Police in Colombia have arrested a man whom they suspect of providing a powerful criminal gang with weapons.
Andres Arroyabe, a rich businessman, is also wanted in the United States for allegedly ordering the murder of a witness in a drug-trafficking case.
Colombian police say Mr Arroyabe, also known as The Machine, joined the Urabenos gang seeking revenge for his father's murder by a rival gang.
Mr Arroyabe was arrested at his ranch in central Colombia.
Police said Mr Arroyabe supplied the Urabenos gang with communications equipment and armoured cars, as well as long- and short-range weapons.
In return, officials said, the Urabenos gang put him in charge of some 300 men, who used Mr Arroyabe's private security firm as a front for a lucrative extortion ring.
Gang warfare
Mr Arroyabe is believed to have joined the Urabenos gang after his father, Jose Arley Arroyabe, was killed in 2009.
Mr Arroyabe Snr, a horse-breeder and helicopter merchant, was shot dead while he was leading a parade on horseback at a local fair in the city of Medellin.
Police suspected Mr Arroyabe Snr of having links to the Comba criminal gang. They believe members of the gang betrayed and killed him.
Security officials think it was this betrayal which drove his son into the arms of the Comba's sworn enemies, the Urabenos.
Police arrested Andres Arroyabe at his ranch in Cundinamarca province, where they surprised him in his sleep.
The arrest followed a four-month investigation launched after the killing of a police informant in Bogota, which the authorities suspect was ordered by Mr Arroyabe.
A court in the US state of Florida has issued an extradition order for Mr Arroyabe on suspicion of drug trafficking and the murder of the informant, who worked for the US Drug Enforcement Administration.
The US authorities also accuse him of sending more than 10 tonnes of cocaine to the United States.
Criminal gangs such as the Comba and the Urabenos have been singled out by the Colombian government as one of the main threats against security.
President Juan Manuel Santos has made the fight against the gangs one of his government's priorities.