Biden visits Mexico and Honduras amid drug debate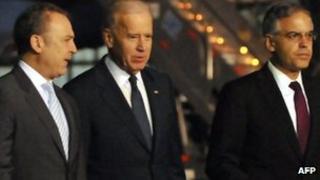 US Vice-President Joe Biden is visiting Mexico and Honduras amid calls by regional leaders for a new debate on decriminalising drug use.
Several Central American presidents, faced with rising drug violence in their countries, have spoken recently of the need for a policy change.
The US remains opposed to decriminalisation, US officials say.
In Mexico, Mr Biden will meet President Felipe Calderon and the three candidates in July's presidential vote.
He then travels to Honduras, where he will hold talks with President Porfirio Lobo and fellow leaders from El Salvador, Panama, Costa Rica and Guatemala.
Last week, the Organization of American States (OAS) warned that drug gangs were posing a growing threat to democracy in Latin America.
Guatemalan President Otto Perez Molina, a retired army general, has ordered his nation's army to join the fight against the trafficking gangs but also called for the possible decriminalisation of drugs.
President Laura Chinchilla of Costa Rica told Bloomberg last week that legalising drugs in central America deserved "serious debate".
Dan Restrepo, the top Latin American official in the White House, said that Mr Biden expected a "robust conversation" about the security problems posed by traffickers but that there would be no shift in policy.
"The Obama administration has been quite clear in our opposition to the decriminalisation or legalisation of illicit drugs," Mr Restrepo was quoted as saying by the Associated Press.
The drugs issue is likely to surface next month when regional heads of state, including President Barack Obama, gather in Colombia for the sixth summit of the Americas.