Three killed by 'rebel bomb attack' in Colombia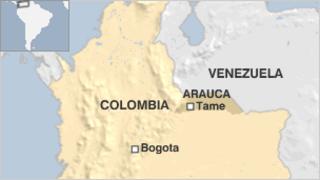 Two soldiers and an eight-year-old boy have been killed in an explosion in north-eastern Colombia.
Military officials said the explosives were planted by Colombia's largest left-wing rebel group, the Farc.
Three soldiers were also injured in the attack near the town of Tame.
Colombian Defence Minister Juan Carlos Pinzon said the security situation in Colombia had deteriorated over the past few months, but that the government was meeting the threat head on.
The explosion happened in the same area where nine employees from an oil company were abducted on Wednesday.
It is not clear who kidnapped the workers as a number of illegal groups are active in Arauca province, where Tame is located.
The Farc rebel group announced last Sunday that it would abandon kidnappings for ransom.
But a smaller left-wing rebel group, the ELN, and a number of drug gangs continue to abduct people in the region.
Last year, a 10-year-old girl was abducted on her way to school, also in Arauca province.
She was held for 18 days before her kidnappers, suspected of belonging to the Farc, released her after negotiations led by the International Red Cross.
The Marxist-inspired Farc has been active since the early 1960s.
It has been severely weakened by military offensives and the killing of two of its top leaders, but remains capable of carrying out attacks, in part due to cash raised through its involvement in the illegal drugs trade.