World Cup 2014: Brazil to boycott Fifa's Jerome Valcke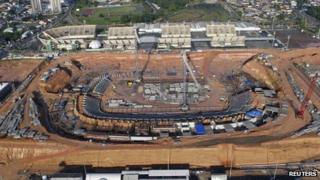 Brazil says it will no longer deal with the secretary-general of football's world governing body, Fifa, following his "unacceptable" comments about preparations for the 2014 World Cup.
Sports Minister Aldo Rebelo insisted Fifa appoint someone else to work with Brazil on the competition.
Jerome Valcke had said Brazil needed a "kick up the backside".
He said the country appeared to be more concerned with winning the World Cup than organising it.
Mr Valcke responded to the sports minister's snub by calling the move "puerile".
'Not working'
Mr Rebelo branded Mr Valcke's comments inappropriate and said Brazil would no longer welcome him to the country.
"In light of these statements, which are inadequate and unacceptable comments for any type of relationship, the Brazilian government is going to send a letter to Blatter telling him it no longer accepts Secretary-General Valcke as an interlocutor," Mr Rebelo said.
Brazil would work with other local Fifa organisers but not Mr Valcke, who Mr Rebelo said had contradicted comments Fifa itself had made after a visit in January.
"The secretary-general made an evaluation that does not correspond to the facts or the reality,'' Mr Rebelo added.
Mr Valcke had said during a visit to London: "I don't understand why things are not moving.
"The concern is that nothing is made or prepared to receive so many people, because the world wants to go to Brazil. I am sorry to say but things are not working in Brazil."
The Fifa secretary general also expressed frustration at delays in approving a law setting out the regulatory framework for the World Cup.
The World Cup bill - currently being considered by the Brazilian Congress - would lift a ban on alcohol sales in stadiums and limit discount ticket sales to students and pensioners.
But it has been opposed by lawmakers who say it gives Fifa too much power, as well as those who are against alcohol sales in stadiums on health and safety grounds.
Speaking on Saturday, Mr Valcke said: "If [I'm] the problem because nothing has happened over the five years... because I made, wow, one comment saying things are not working well and I for once said exactly what is happening in Brazil - if the result is they don't want to talk to me any more, I'm not the guy they want to work with, that's a bit puerile."
The Brazilian government has always said it is determined to deliver a successful World Cup as well as a lasting legacy.
It is investing billions of dollars in building new stadiums and renovating old ones, as well as in transport infrastructure such as roads and airports.
The 2014 World Cup will be the first in South America since Argentina hosted the tournament in 1978, and the first in Brazil since 1950.