Hugo Chavez: 'Soaring like the condor' after surgery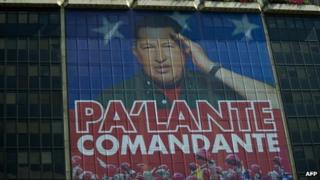 Venezuelan President Hugo Chavez says he is recovering well, in his first comments after undergoing an operation in Cuba.
"I'm soaring like the condor," he wrote on Twitter. "I send you all my supreme love. We will live. We will win."
Mr Chavez, who had surgery last year to remove a cancerous tumour, had a lesion in his pelvic region completely removed, Venezuelan officials said.
His renewed ill-health comes as he is set to run for re-election in October.
Vice President Elias Jaua told Venezuelan state television that he had spoken to Mr Chavez and that he was "well on the road to recovery".
There is as yet no indication of when he will return from Havana.
The exact nature and extent of Mr Chavez's illness has never been made public, leading to persistent rumours that his health is worse than officially acknowledged.
The Venezuelan government accuses the "ultra-right" for spreading malicious speculation.
Mr Chavez said the growth was probably malignant before he travelled to Havana last Friday.
The Venezuelan leader had surgery and four rounds of chemotherapy in Cuba last year after a baseball-sized growth was detected in his pelvic region.
In October, the president had said he was free from cancer, but last week announced he would require another operation.
Mr Chavez's surgery comes at a critical time, as he prepares to campaign for re-election for another six-year term.
His challenger in October's election is Henrique Capriles Radonski, a state governor who won an opposition primary earlier this month.