Guatemalan 'drug lord' Ortiz Lopez faces US extradition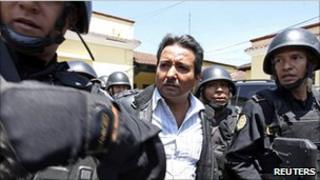 A Guatemalan court has approved the extradition to the US of Juan Ortiz Lopez, alleged to be one of Guatemala's main drug traffickers.
Mr Ortiz, captured in March 2011 by US and Guatemalan agents, is accused of smuggling cocaine into the US.
Guatemalan President Otto Perez Molina is stepping up efforts against organised crime.
He has ordered the army to join the fight but also called for the possible decriminalisation of drugs.
At the time of his arrest, Mr Ortiz was described by Guatemalan officials as a "big fish".
A federal court in Florida has charged him with trafficking large amounts of cocaine into the US.
Mr Ortiz has said he is innocent and that he will appeal against the extradition ruling.
Guatemala is struggling against the growing influence of Mexican drugs cartels in large areas of the country.
Mr Perez Molina, a retired general, took office in January, promising an "iron fist" against crime.
But he has also urged a regional rethink on drugs policy.