Falklands dispute: Argentina 'urges UK import ban'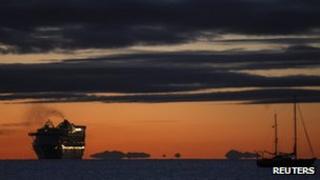 The Argentine government is calling on the country's top companies to stop importing goods from the UK, according to the state news agency Telam.
Industry Minister Debora Giorgi called the bosses of at least 20 firms to urge them to replace imports from Britain with goods produced elsewhere, it said.
The move is linked to the dispute with Britain over the Falkland Islands, which Argentina claims as the Malvinas.
Tension has been rising ahead of the 30th anniversary of the Falklands war.
The industry ministry is trying to reduce Argentina's trade deficit with the UK and establish policies that favour countries that recognize Argentina's territorial claim, Telam reported.
In recent months the government of President Cristina Fernandez has stepped up its campaign to assert sovereignty over the Falklands, rallying regional support for its claim.
It also has a policy of restricting imports through formal and informal means to try to stop foreign currency reserves from flowing out of the country.
'Sadness'
On Monday two cruise ships were turned back from the Argentine port of Ushuaia, apparently because they had visited the Falklands.
UK foreign office minister Jeremy Browne expressed "sadness and frustration" at that move.
"We enter the relationship with Argentina in a spirit of friendship, and it's source of sadness to us that they don't always do the same," he told parliament.
The UK, which has controlled the Falklands since 1833, says there can be no negotiations on sovereignty as long as the 3,000 Islanders wish to remain British.
On 2 April, both nations will mark the 30th anniversary of the Falklands War, which began with an Argentine invasion of the islands and ended in victory for a British task force sent to recover them.