Argentina train crash company TBA taken over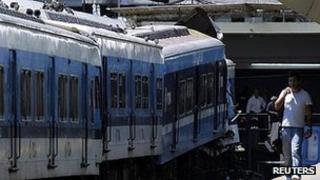 The Argentine government has taken temporary control of the railway company TBA, a week after one of its trains crashed, killing 51 people.
The government will run the company for 15 days or until a criminal investigation into the crash is complete, officials said.
More than 700 people were injured when the train slammed into the buffers at a Buenos Aires station last Wednesday.
The operator Trenes de Buenos Aires (TBA) has blamed human error.
It has denied claims by the driver that he repeatedly warned of brake problems before the crash, but was ignored.
Planning Minister Julio de Vido said the decision to intervene in the company was taken in the public interest.
"We are taking this action, which is temporary and precautionary, because the public interest is at stake and we have to guarantee the service and protect the conditions of the passengers," Mr de Vido said.
President Cristina Fernandez has given investigators 15 days to report on what caused the accident.
Last week, Argentina's auditor-general urged the authorities to cancel TBA's concession to operate the suburban line, saying previous reports of safety failings had not been addressed.
The accident was Argentina's worst train crash for decades, and has fuelled criticism of the state of the country's railways.