Argentina intellectuals query Falkland Islands policy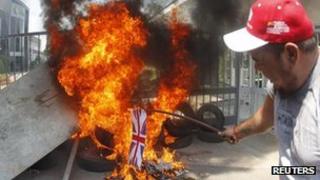 A group of Argentine intellectuals has challenged the government's ambition to take control of the Falkland Islands from the British.
The 17 writers urged the government to recognise the right of the islanders to decide their own future.
They also say Argentina's demand for negotiations with the UK contradicts its insistence on sovereignty.
Tension has been rising in the run-up to the 30th anniversary of the war the two countries fought over the islands.
The intellectuals issued a joint statement titled An Alternative Vision of the Malvinas (Falklands).
Among the signatories are the journalist Jorge Lanata, historians Luis Alberto Romero and Hilda Sabato, cultural critic Beatriz Sarlo, and constitutional law expert Daniel Sabsay.
'Nationalist agitation'
They argued that the government's actions were out of proportion to the importance of the issue, and had little relation to the "major political, social and economic problems" the country faces.
"A climate of nationalist agitation driven once again by both governments seems to be affecting a great number of our leaders from both the government and opposition," the document said.
It argued that Argentine society had still not faced up to its responsibility for the invasion of the Falklands in 1982, and should recognise that the use of force was "unjustifiable".
It pointed out that Argentina's demand for bilateral negotiations with the UK including the issue of sovereignty contradicted the insistence - enshrined in the national constitution - that Argentina's claim to sovereignty was "non-negotiable".
The statement urged genuine dialogue with the UK and the Falkland Islanders, and a recognition that the islanders have the right to self-determination.
"Respecting their way of life means giving up the intention to impose on them a sovereignty, citizenship and government they don't want," it said.
'Traitors'
Many Argentine web users have reacted negatively to the statement.
Readers posting comments on the website of the newspaper La Nacion rejected the arguments, with some labelling the authors "traitors" and "sell-outs".
Argentine President Cristina Fernandez de Kirchner's government has stepped up its diplomatic campaign to assert sovereignty over the islands in recent months, rallying regional support and accusing the UK of "militarising" the South Atlantic.
Britain, which has controlled the islands since 1833, has said there can be no negotiations on sovereignty as long as the Falkland Islanders wish to remain British.
On 2 April, both nations will mark the 30th anniversary of the Falklands War, which began with an Argentine invasion of the islands and ended in victory for a British task force sent to recover them.