Venezuela's Hugo Chavez set for new Cuba surgery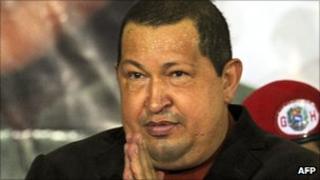 Venezuelan President Hugo Chavez will go to Cuba on Friday for an operation on a lesion in an area where he had a cancerous tumour removed last year.
Venezuela's parliament gave him permission to leave the country for more than five days.
Mr Chavez, 57, says the lesion is probably malignant but that he is determined to survive.
The left-wing leader - who has governed Venezuela for 13 years - is due to stand for re-election in October.
He has warned that the medical treatment will mean he will have to reduce his workload during the campaign.
Last October he declared himself cancer-free after surgery and chemotherapy in Cuba.
But the exact nature and extent of his illness has never been made public, leading to persistent rumours that his health is worse than officially acknowledged.
No stand-in
"I will live! I will live!" declared Mr Chavez, pounding on the table during a live broadcast on Thursday in which he spoke for more than four hours, according to AP news agency.
He said he would leave on Friday and undergo surgery early next week to remove the growth, described as about 2cm (one inch) in diameter.
"Nobody can say right now that it is another malignant tumour," Mr Chavez said, "[but] the likelihood of malignancy is greater than the probability that it is not."
Venezuela's National Assembly approved Mr Chavez's request for permission to leave the country - a formality required by the constitution.
But his supporters rejected opposition demands that Mr Chavez hand over his presidential duties to Vice-President Elias Jaua during his absence.
Mr Chavez has said he is in good physical condition to undergo surgery and is determined to "win the battle" against the illness.
He announced that he would need further surgery earlier this week.
His renewed illness comes at a critical time, as he prepares to campaign for re-election for another six-year term as president.
His challenger in October's election is Henrique Capriles Radonski, a state governor who won an opposition primary earlier this month.