Bolivia floods: Emergency declared in Amazon region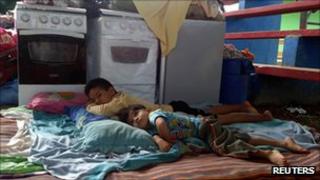 Bolivia's government has declared a state of emergency in response to flooding caused by heavy seasonal rains.
Around 9,000 families have been made homeless, officials say, and several people are reported dead.
Roads have been cut, and large areas of farmland have been inundated.
Worst hit has been the northern province of Pando, in the Amazon rainforest on the border with Brazil, where the river Acre burst its banks.
Much of the provincial capital, Cobija, is under water and some remote villages are feared to have been destroyed.
Bolivian Defence Minister Ruben Saavedra said the declaration of an emergency would allow local authorities to access special funds.
Bolivia's Amazon lowland plains are subject to flooding every year during the January-March rainy season, but this year's rains have been unusually intense.
Neighbouring areas in the Peruvian and Brazilian Amazon have also been affected.