Chile-Peru border reopens after landmine incident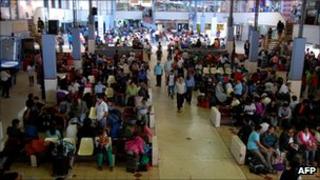 Chile has reopened its main border crossing with Peru after closing it on Monday when heavy rain washed landmines onto the road.
Army bomb disposal experts gave the all-clear after detonating a number of devices in controlled explosions, officials said.
The closure had left hundreds of travellers stranded.
Chile planted thousands of mines along its northern border in the 1970s during a period of tension with Peru.
More than 100 landmines were displaced by torrential rain and washed down a ravine into the vicinity of the road linking Arica in Chile and Tacna in Peru, the Chilean army said.
As well as clearing the mines, military engineers dug drainage channels to prevent a repeat of the incident.
A special convoy of buses was sent to bring home hundreds of Chileans who had been stranded in Tacna, Chile's foreign ministry said.
Periodic border tensions are a legacy of the 19th Century War of the Pacific, which ended with Chile annexing part of southern Peru as well as Bolivia's coastline.
Chile is a signatory to the Ottawa Treaty banning anti-personnel mines, and has been working to clear the area of mines.
It aims to be mine-free by 2020.