Honduras' Comayagua jail fire 'caused by cigarette'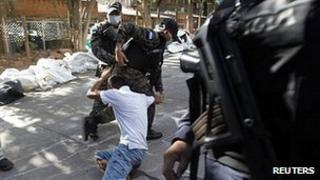 A prison fire in Honduras that killed 360 inmates may have been started by a discarded cigarette, officials say.
Chief prosecutor Luis Alberto Rubi said that an initial investigation showed that the cause of the fire was accidental.
Inmates at the Comayagua prison north of Tegucigalpa were trapped in their cells when the late-night fire broke out last week.
Foreign experts have been brought in to help establish the cause.
Mr Rubi told local TV that autopsies of 277 inmates showed no evidence of gunshot wounds. He also ruled out a theory that the fire had been started by petrol.
He said investigators had been told by witnesses that a prisoner fell asleep while smoking.
Mr Rubi said experts from the US Bureau of Alcohol, Tobacco, Firearms and Explosives supported the accident theory.
The US embassy in Honduras said American officials would not comment on current investigations.
Clashes at mortuary
The death toll rose to 360 on Tuesday with the death of another prisoner.
Firefighters called to the blaze said they could not get the prisoners out because they could not find guards who had the keys to the cells.
On Monday, grieving relatives forced their way into a mortuary in the capital Tegucigalpa to demand the remains of their loved ones.
A large group, most of them women, broke into a refrigerated container and opened several body bags before they were driven out by police.
President Porfirio Lobo has pledged a "full and transparent" investigation and officials have acknowledged that the prison system needs reform.
Prisons in Honduras hold some 13,000 inmates in a system designed for 8,000.
A government report obtained by AP news agency said there were about 800 prisoners in the Comayagua jail which was built for 500.