Mexico violence: taxi drivers gunned down in Monterrey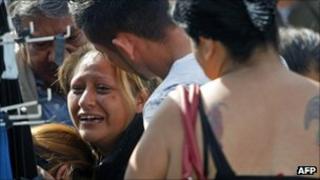 Five taxi-drivers have been shot dead in the city of Monterrey in northern Mexico, the authorities say.
Gunmen with assault rifles fired on the drivers as they waited for passengers at a taxi-rank in the mid-morning.
The motive for the attack is not known, but it is thought they may have been targeted by criminal gangs who extort money from local businesses.
Monterrey is a prosperous industrial city, but in recent years it has become a focus of drug-related violence.
The city has become a battleground for the rival Zetas and Gulf drugs cartels, who are fighting for control of smuggling routes into the US.
On Sunday 44 prisoners were killed during a riot at a jail outside the city, and 30 other inmates escaped.
The prison director and guards have been accused of colluding in the break-out by prisoners linked to the Zetas.
Last year Monterrey was the scene of the one of the deadliest incidents Mexico has seen in recent years - an arson attack on a casino which killed 52 people. It was also blamed on extortionists.