Chile-Peru border closed over landmine hazard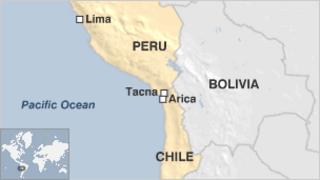 Chile has closed its main border crossing with Peru after torrential rain washed landmines on to the road.
Officials did not say how many mines had been displaced by the downpour, but army bomb disposal experts have detonated at least four devices.
The closure caused severe congestion at the Arica-Tacna border crossing.
Chile planted thousands of anti-tank and anti-personnel mines along its northern border in the 1970s during a period of tension with Peru.
In recent years it has been working to de-mine the area.
"At around 03:00 water rushed down from the ravine," local official Ximena Valcarce said.
"We have anti-personnel and anti-tank mines in the region and these mines moved on to Route 5 North, so with the police and the army we decided to close the road."
Ms Valcarce said bomb disposal teams were working to make the road safe, but as rain continued she could not guarantee that it would reopen on Monday.
Rain is rare in the area, which is one of the driest regions on earth.
Periodic border tensions are a legacy of the 19th Century War of the Pacific, which ended with Chile annexing part of southern Peru as well as Bolivia's coastline.
Chile is a signatory to the Ottawa Treaty banning anti-personnel mines, and aims to be mine-free by 2020.