Mexico drug wars: Murders down in Ciudad Juarez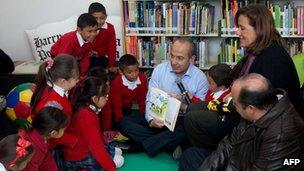 Mexican President Felipe Calderon has said murders in the country's most violent city, Ciudad Juarez, almost halved since hitting a record in 2010, when more than 3,000 people died.
Mr Calderon said job creation had been key to the fall in violence.
Most of the murders were the result of a turf war between rival drug gangs.
Analysts say the reduction could mean that the Sinaloa cartel has succeeded in edging out its rivals from the Juarez cartel from the city.
Ciudad Juarez has been notorious for brutal killings, which rocketed from around 300 in 2007 to more than 3,000 in 2010.
Most of that violence has been linked to a deadly war between the Sinaloa and the Juarez rival cartel for control of the lucrative drug smuggling routes to the United States.
President Calderon said a multi-million dollar investment programme to create more employment had been key in turning Ciudad Juarez around.
Speaking at an employment fair in the city on Friday, he said a lack of opportunities, poor education and poor health care had weakened the social fabric of the city.
President Calderon said that the government investment programme "We're all Juarez", launched two years ago, had played a major role in improving security.
Quoting figures from the Citizens' Council for Public Security, he said the murder rate in Ciudad Juarez had dropped 45% between 2010 and 2011.
He said the figures for the first six weeks of 2012 were even more promising, suggesting a 57% drop in homicides compared to the same time period in 2011.
In its annual report, US geopolitical analysis firm Stratfor also noted the drop in Ciudad Juarez's murder rate.
Analysts have long maintained that the spike in violence in 2010 was caused by the Sinaloa cartel moving into the city and the subsequent war between it and the Juarez cartel.
They argue that the drop in violence could be down to the battle having been won by the Sinaloa cartel.
Related Internet Links
The BBC is not responsible for the content of external sites.