Ecuador court upholds $40m Rafael Correa libel victory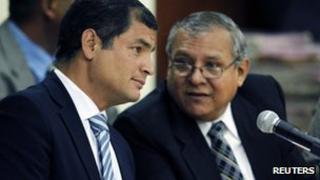 Ecuador's highest court has upheld the verdict against El Universo newspaper for libelling President Rafael Correa.
The original ruling last year sentenced a columnist and the newspapers owners to three years in jail and awarded damages totalling $40m (£25m).
Mr Correa brought the libel suit after El Universo questioned an army raid to rescue him from a violent protest by striking policemen in 2010.
The case has focused attention on the freedom of Ecuador's media.
"Thank God that the truth has prevailed," said Mr Correa who attended the 14-hour-long hearing.
Last July, a court sentenced journalist Emilio Palacio and newspaper owners Carlos, Cesar and Nicolas Perez to three years in jail and set damages and fines totalling $40m.
Mr Correa said he had brought the lawsuit to defend himself against false accusations.
The case relates to unrest in September 2010, described by Mr Correa as an attempted coup, which saw him trapped inside a hospital for several hours by police officers.
Mr Palacio, in an article in February 2011, alleged that the president had ordered soldiers to fire on the hospital, which was full of civilians.
Lawyers for El Universo, Ecuador's main opposition newspaper, argued that the original punishment was out of proportion and filed an appeal.
The ruling by National Court of Justice to ratify the sentence is final.
Three of the defendants, Nicolas and Cesar Perez, and Mr Palacio, are currently in Miami and say they fear for their safety if they return home.
Rights groups say the case is a further blow to freedom of expression in Ecuador.
President Correa says privately owned media organisations are corrupt and spread lies in an attempt to undermine his government.