Honduras prison fire: Families' grief and anger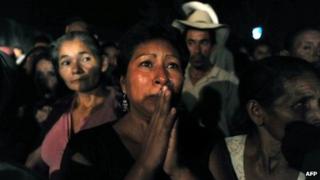 More than 24 hours after the devastating fire broke out at the jail in Comayagua, the scene is still one of confusion and desperation.
The air is heavy with the smell of the charred bodies and almost everyone is wearing a facemask to protect themselves from the stench.
Hundreds of Honduran soldiers and police are on hand to keep order while forensics teams appear every few minutes carrying another body bag out the front door.
As well as the dead, the survivors have been emerging too, as groups of injured men have been taken out at gunpoint to be treated.
Beyond the perimeter fence, family members have been waiting anxiously for news.
One man said he had heard nothing about his cousin, while another woman said she'd been told that two of her relatives had perished in the fire.
There is a sense of deep frustration and resentment at the authorities who the families accuse of holding back information.
But at this early stage of recovering and identifying the remains, the various government agencies at work here simply do not yet have the answers the families are looking for.
A health official who had spent many hours inside the burnt-out prison told me that the remaining inmates were being housed in tents inside the kitchens and library areas of the complex.
He readily admitted that the building was no longer "apt" for human habitation.
There were also still conflicting stories emerging from government officials.
The country's public works minister told the BBC that the blaze was definitely caused by an inmate setting fire to his mattress as a fight broke out.
The security minister, also on the scene, said it was too early to tell and only a full investigation would decide whether there had been a riot or an electrical fault at the jail.
Amid the confusion, however, the relatives - predominantly women - continue their vigil outside the gates in mourning and in shock.
As night fell over the prison, Sulla Padia lit candles for her two brothers who both died in the fire, trapped behind bars.
She was dismissive of the government's offer to pay for the funerals.
"The president says he'll buy people coffins. I don't care how poor we are. No-one here wants a coffin.
"They want to know where their loved ones' remains are."