Cuba eyes Americas Summit place, but not OAS return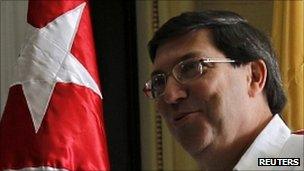 Cuba has said it will attend the Summit of the Americas in Colombia in April if it is invited, but has no desire to rejoin the Organisation of American States (OAS).
The Summit usually involves only OAS members, and Cuba was suspended from the organisation in 1962 because of its communist system.
But other left-wing Latin American countries say it should be invited.
The US says Cuba should remain excluded because it is not a democracy.
Cuban Foreign Minister Bruno Rodriguez Parrilla said at a meeting of the Bolivarian Alliance for the Americas (Alba) - a left-wing regional group - that Cuba was willing to attend the summit.
"We know that this summit cannot be for the Americas if it unfairly excludes Cuba," Mr Rodriguez said.
But he added that Cuba would not return to the OAS, calling it "an organisation that has served to promote domination, occupation and aggression," and "a platform for the US to attack and plunder Latin America and the Caribbean".
The US has said Cuba's non-participation in the OAS is not necessarily a barrier to taking part in the Americas Summit.
But it insists Cuba should only be invited if it agrees to implement democratic reforms.
The OAS revoked Cuba's suspension in 2009 but said it would have to comply treaties guaranteeing democratic principles to be readmitted.
The campaign for Cuba to be invited to the Americas Summit in Cartagena on 14-15 April has been led by left-wing governments including Ecuador and Venezuela.
It is the latest challenge to the traditional US dominance of regional groupings.
As well as Alba, in recent years two alternative regional organisations have been formed that exclude the US and Canada.
The Union of South American Nations (Unasur) was created in 2008.
And last year saw the inauguration of the 33-member Community of Latin American and Caribbean States (Celac), which includes Cuba.
A key player in the establishment of all three groupings has been Venezuela's left-wing President Hugo Chavez, who is a strong critic of US influence in Latin America and the Caribbean.
Related Internet Links
The BBC is not responsible for the content of external sites.