Fifa tension as Brazil debates World Cup law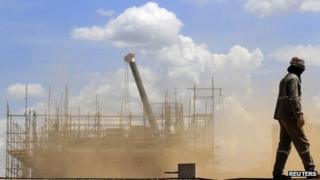 Sunday afternoon and all is set for the big football derby match in Brazil.
Whether it is a "classic" between Rio de Janeiro's Flamengo and Fluminense, Sao Paulo rivals Corinthians and Palmeiras, or Gremio pitted against Internacional in Porto Alegre, match day routine for fans is pretty much the same.
Drinks and a meal before kick-off; post-match celebration or grieving in a bar.
But since 2003, partying inside the stadium has been with soft drinks only after the authorities introduced a ban on alcohol as part of efforts to curb the violent behaviour of some fans.
This prohibition is one of several issues that has put Brazil on a collision course with football's governing body, Fifa.
With the 2014 World Cup due to be held in Brazil, Congress in Brasilia has been debating a proposed law that would enshrine the commitments made by the Brazilian government when it won the right to host the event.
These cover ticket sales and prices, broadcasting rights, security, copyright infringement.
But on Tuesday, a congressional committee again postponed a vote on the bill, which will need to go before the full Congress and be signed into law by President Dilma Rousseff before it can take effect.
Fifa Secretary Jerome Valcke has been pushing for the legislation to be passed, amid concerns over the slowness of Brazil's preparations for the World Cup.
He has also made it clear that beer sales are "non-negotiable".
Fifa insists that it must protect the commercial rights of its sponsors who help fund the cost of staging the World Cup.
Tickets
The strong stance from Fifa has raised hackles in Brazil and provoked complaints the governing body is meddling in the country's laws and even its sovereignty.
Critics argue that the only beneficiaries of lifting the alcohol ban would be Fifa and its sponsors, among them brewer Anheuser-Busch.
"Fifa wants to have powers in Brazil which it is not entitled to, as a private company," says Romario, who was part of Brazil's 1994 World Cup-winning team.
The former striker, who is now a federal congressman, has been one of the most vocal critics of Fifa and the 2014 Organising Committee.
Ticket prices have also proved a sore point, as under the agreement Fifa sets the prices but usually students and senior citizens pay half price to attend games.
While no politician has come out publicly in defence of Fifa's demands, legislators and government officials know that the pressure is on.
The worst-case, if highly improbable scenario, would be for Fifa to decide to move the World Cup elsewhere.
That would be a devastating outcome for Brazil, where people are eager for their country to host its first World Cup in 64 years.
After all the wrangling, it seems likely that Fifa will get its way on alcohol sales and other matters.
The Brazilian side has already agreed to lift the beer ban - as long as it is sold in paper cups - and to cover any financial losses in the case of natural disasters or terrorist attacks.
Amid the battle between political and commercial interests, there has been little discussion of whether the alcohol prohibition has actually reduced football violence.
But proposals by some Brazilian politicians to lift the ban permanently were quashed.
So once the 2014 World Cup is over, football stadiums will be continue to be alcohol-free, just as now.