Venezuela opposition: Row erupts over voter list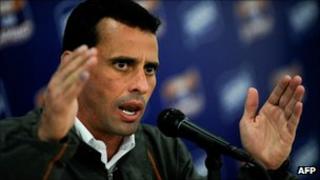 Venezuela's opposition says it has destroyed the list of voters in Sunday's primary election, despite a court order that they be preserved.
The Democratic Unity coalition said the records had been burned in accordance with a promise to ensure confidentiality.
There were also fears that those who voted could face government reprisals.
The primary saw Henrique Capriles Radonski picked to challenge President Hugo Chavez in October's election.
Voters also selected opposition candidates for local and state-level elections across the country.
Venezuela's Supreme Court intervened after a complaint from a local mayoral candidate who wanted to challenge the result.
It said the voters lists from across the country should be handed to the electoral authorities within 24 hours.
But the executive secretary of the Democratic Unity (MUD) coalition, Ramon Aveledo, dismissed the ruling as "absurd, unconstitutional and disproportionate".
'Absolute secrecy'
Hours later, other opposition officials said the voting records had all been destroyed.
"We gave our word to all Venezuelans who turned out to vote on 12 February that the process would be absolutely secret, both the vote and the names of the people who took part," MUD youth leader Edinson Ferrer said.
The issue of voter secrecy was of particular concern to the opposition following an unsuccessful recall referendum against President Chavez in 2004.
A list of people who backed that initiative was made public, and many afterwards complained that they had suffered discrimination as a result, losing out on jobs in the public sector.
Supporters of President Chavez have questioned the opposition claim that more than three million people took part in Sunday's primaries.
They have also stepped up personal attacks on Mr Capriles.
The 39-year-old governor of Miranda state will face Mr Chavez in the election set for 7 October.