Mexico drugs: cartel 'meth boss' Jaime Herrera arrested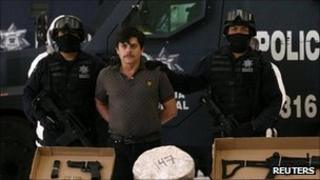 Mexican police say they have captured one of the country's main producers of the illegal synthetic drug, methamphetamine.
The suspect Jaime Herrera Herrera was detained in Culiacan in Sinaloa state along with an alleged accomplice.
He is alleged to have close links to Mexico's most-wanted drug trafficker, the fugitive Sinaloa cartel leader Joaquin "El Chapo" Guzman.
Mr Herrera, 43 - known as "the Old Man" - is also wanted in the United States.
"It is a powerful blow because Jaime Herrera was one of the main producers of methamphetamine, or ice," Federal Police anti-drug chief Ramon Pequeno said.
"With the monthly production he had, he was a strong generator of money for the organisation," he added.
The production of methamphetamine is on the rise in Mexico, with huge amounts smuggled into the US.
Last week the Mexican army seized 15 tonnes of the drug in the western state of Jalisco.
Over the past few months, the authorities have also seized a record amount of the chemicals used to produce it.