Venezuela opposition aims for rich electoral reward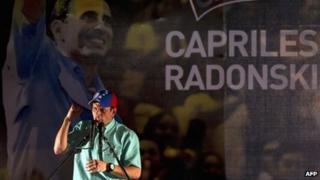 It was the politest of election campaigns. Well-mannered television debates ended with the candidates raising each other's hands in victory, and applauding their competitors' contributions.
Long-standing political differences were glossed over as six (and then five, as one withdrew) ambitious politicians competed for a single prize - the chance to compete for the Venezuelan presidency against Hugo Chavez.
In the end, Henrique Capriles, a lawyer from Caracas, won this ground-breaking primary election by a comfortable margin. He now becomes the sole opposition challenger in presidential elections scheduled for 7 October.
Venezuela's various opposition parties have tried a number of different tactics in the past to try to beat President Chavez and his United Socialist Party (PSUV) in polls.
Their boycott of legislative elections in 2005 played entirely into the president's hands, delivering to him a legislature that was packed with his allies.
In the last presidential election in 2006, they united behind one candidate, Manuel Rosales. But he was chosen by party elites rather than by an open public vote.
Recognising that all parties were struggling to make any headway against the PSUV, Venezuela's opposition formed the Coalition for Democratic Unity (MUD) in 2008.
In the subsequent round of legislative elections, the MUD put forward a single candidate for each constituency, winning 65 seats to the PSUV's 98 and so denying Mr Chave'z party a two-thirds majority in the assembly.
Both sides argued that they had won the popular vote.
The opposition is hoping that the same approach in the presidential election will reap a rich reward.
"In the past, in Venezuela and Latin America, when the opposition is fragmented, the incumbent candidate wins," said political analyst Carlos Romero.
"Faced with the importance of President Chavez, the advantages that the government has and the majority that Chavez currently has, it's much more promising and it's a safer bet to have a single opposition candidate to go up against Chavez."
Hugely charismatic
Now confirmed as that candidate, Mr Capriles has so far preached a message of inclusivity and unity, hoping that he can appeal to all members of the political spectrum.
Nevertheless, President Chavez has a formidable track record when it comes to elections. Since 1998, he has won three presidential polls as well as two referendums on changes to the constitution.
His party has had control of the National Assembly since 2000.
He is a hugely charismatic figure who inspires devotion in many of his political followers. His face adorns T-shirts, mugs and key rings in souvenir shops in Caracas.
There is even a Hugo Chavez doll that plays some of his recorded speeches when you press a button in his back.
The president is expected to increase state spending in the run-up to October's election, and has already announced plans for new government employment and housing schemes.
Opposition opportunity
But the political opposition senses an unprecedented opportunity.
Venezuela's economy is sluggish and many are bracing themselves for the introduction of price controls which were announced at the end of last year and could exacerbate shortages.
The government is struggling to tackle high crime rates that have seen Caracas judged one of the most dangerous cities in Latin America.
And questions remain over Mr Chavez's health. Since he was diagnosed with cancer last year, he has declined to give many details of the disease, his treatment and recovery.
He now seems much better than last year when first weight and then hair loss indicated his battle with cancer, but it is not a disease that can be declared beaten in just a few months.
"There have always been opportunities [for the opposition]," said Mr Romero. "What's new and interesting in this election is that we have an opposition candidate who is new and young, but who already has experience in government."
Now the battle for the presidency can commence in earnest.
Mr Chavez is bidding to extend his Bolivarian Revolution by another six years. That would mean continuing ties with Cuba and Iran, and the possibility of more expropriations and nationalisations in Venezuela.
While Mr Capriles has professed admiration for some of the current government's programmes, his Venezuela would probably be a very different country to the one that has been created over the last 13 years.