Venezuela polls: Henrique Capriles to challenge Chavez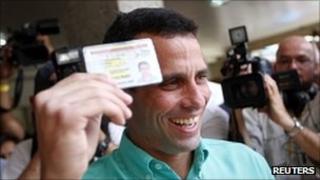 Venezuela's opposition has chosen Henrique Capriles Radonski to stand against President Hugo Chavez in October's presidential election.
Mr Capriles, the governor of Miranda state, triumphed in the first ever opposition primary election.
Voting was extended for an hour after what organisers said was a higher-than-expected turn-out.
President Chavez has said he is confident of winning re-election no matter who he runs against.
The left-wing leader has governed Venezuela since 1999, winning repeated election victories.
He had surgery for cancer last year but says he has recovered and is ready to campaign for another six-year term in office.
The primary, organised by the opposition Democratic Unity (MUD) coalition, was open to all Venezuelans of voting age, regardless of their political affiliation.
"Today, the future of Venezuela won and, as we said, we repeat to everyone: there is a path, there is a path for progress, for the future, to make Venezuela a greater country", Mr Capriles told supporters at a victory rally in the capital, Caracas.
Mr Capriles said he hoped to unite all the opposition parties through his leadership.
"I hope to be president of the yellows, the whites, the greens, the blues, the oranges, the reds. I hope to be president of those without a colour."
'Agents of imperialism'
Some people had queued for hours at polling stations. Officials extended the voting time to try to allow all those who waited the chance to vote, reports the BBC's Sarah Grainger in Caracas.
Campaigning in this primary had been polite and well-mannered and the losers were quick to congratulate Mr Capriles.
They are now expected to gloss over any political differences and throw their support behind him in his battle at the ballot box with Hugo Chavez, our correspondent says.
Election chief Teresa Albanes said Mr Capriles, 39, had won about 62% of the 2.9 million votes cast, with 95% of votes counted. He easily beat his closest challenger, Zulia state governor Pablo Perez.
Mr Perez, 42, has the support of Democratic Action and Copei - two parties that dominated Venezuelan politics before Hugo Chavez became president.
Also standing in the primary were congresswoman Maria Corina Machado, 43, veteran politician Diego Arria, 73, and former Chavez ally Pablo Medina, 64.
Mr Chavez has dismissed all the candidates as representatives of US "imperialism" who would dismantle his socialist reforms.
He has also said he would accept the election result if he were defeated in October.
The MUD coalition narrowly won the popular vote in last year's legislative election, gaining 67 out of 165 congressional seats on offer.
But opinion polls suggest Mr Chavez is still favourite to win the presidential poll.