Colombia seizes Farc rebels' explosives cache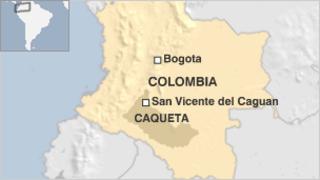 The Colombian security forces have seized three tonnes of explosives and arms belonging to the country's biggest left-wing rebel group, the Farc.
Officers found the explosives in an abandoned rebel camp in the jungle in the south of the country.
They said they had been tipped off by rebels who had handed themselves in to the authorities.
The seizure comes 10 days after the Farc set off a bomb outside a police station in Tumaco, killing 11 people.
Security officials said they had seized 3,200 sticks of explosives, as well as landmines and hundreds of grenades.
Col Wilson Diaz said the camp on the shores of the river Yari was large enough to house around 100 rebels.
The colonel said the seizure had been one of the largest in that region for years.
Farc rebels have stepped up their offensive against the security forces since their leader, Alfonso Cano, was killed in a military raid in November.
Earlier on Saturday, three soldiers were killed in a rebel grenade attack in the mountains of Valle del Cauca province.