Mexico mob kills three suspected kidnappers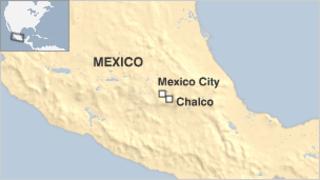 Security officials in Mexico say three men have been killed by a mob for allegedly trying to kidnap a group of youths.
Local residents in Chalco, near Mexico City, beat the men, doused them with petrol and set them alight.
Police managed to save one of the three men from the mob, but he died later in hospital.
Kidnappings are common in Mexico, where criminal gangs make money by abducting people for ransom.
Police described how locals came across the suspects as they allegedly tried to abduct a group of school children.
According to State Prosecutor Alfredo Castillo, a group of six women incited the violence by shouting: "Justice, justice, they're kidnappers!".
The prosecutor described how residents rang the church bells and around 600 people gathered in the town's main square.
A group armed with bars, clubs and bottles surrounded the three suspects and dragged them to the square, where they set fire to them.
State officials said 23 people had been detained in connection with the lynching.
In a travel warning issued on Wednesday, the US State Department warned of the rising number of kidnappings and disappearances in Mexico.
Analysts say accurate figures for the number of kidnappings are hard to come by, as many abductions only last for hours or a few days, until the ransom is paid.
Most are never reported to the authorities for fear of reprisal from the criminal gangs who carried out the kidnapping.