Rio police vote for strike action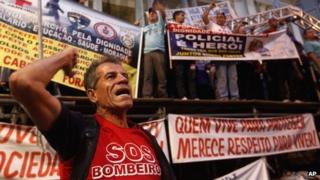 Police in Rio de Janeiro have voted to go on strike to demand better pay - just a week before the Brazilian city's annual carnival.
The state legislature had hoped to avoid industrial action by offering a 39% salary increase.
But unions said that rise was not enough to make up for decades of falling wages.
Protesters in Rio cheered when it was announced that the strike would go ahead.
A military police officer taking part in the protest, Tiago Rodrigues, said Brazilians should stay at home while the strike was on.
"We do not want a strike, we want better salaries," he said.
"Unfortunately, the population will now be caught up in this during carnival.
"We are advising people not to leave their homes. Stay indoors until the situation is calmer."
A strike by police in the city of Salvador, in Bahia state, since last week, led to an increase in reported murders and violence.
The crime rate then dropped after around 3,000 soldiers and federal police were sent in.
Rio's carnival is the world's largest and gets underway on 17 February. Hundreds of thousands of tourists are expected in the city.