Massive methamphetamine seizure in Mexico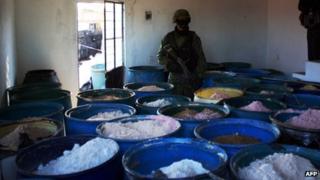 The Mexican army says it has seized 15 tonnes of methamphetamine in the western state of Jalisco.
Soldiers found the synthetic drug, thought to be the largest amount ever seized in Mexico, at a ranch after a tip-off by a local.
The production of methamphetamine is on the rise in Mexico, with the powerful Sinaloa cartel smuggling huge amounts into the United States.
Methamphetamine creates a powerful psychological dependency.
Soldiers discovered the cache at a ranch in Tlajomulco de Zuniga, south of the state capital, Guadalajara.
'Historic seizure'
Gen Gilberto Hernandez Andreu said the ranch had been used as a lab to manufacture the drug, which can be swallowed, sniffed, smoked or injected.
"It's an historic seizure: more than 15 tonnes of methamphetamine, five kilos of crystal, and around seven tonnes of precursor chemicals," General Hernandez Andreu said.
Soldiers also seized equipment used to produce the drug, but no arrests were made.
The Mexican Defence Ministry said the security forces had discovered seven drug laboratories in Jalisco so far this year.
Over the past few months, the authorities have also seized a record amount of precursor chemicals used to produce the drug.
On 18 January, they found 12 shipping containers full of the precursor chemical methylamine in the Pacific coast port of Lazaro Cardenas.
A 2011 report by the United Nations Office on Drugs and Crime said amphetamine-type stimulants had become the second most widely used illegal substances.
According to the report, the main producers of synthetic drugs remain the Netherlands and Burma, but manufacture has spread to Latin America.