Mexico marines find 15 bodies in two graves in Veracruz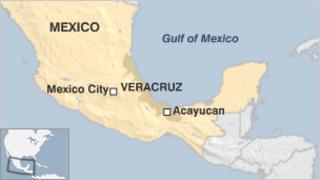 A suspected member of Mexico's Zetas drugs gang has led authorities to two graves in Veracruz state holding 15 bodies, the Mexican navy says.
Marines unearthed the decomposing corpses on two ranches near the town of Acayucan, in the south of the state.
The suspect gave details of the two sites after being arrested when he tried to evade a military checkpoint.
Veracruz has seen a rise in violence in recent months, blamed on feuding between the Zetas and their rivals.
Hundreds of bodies have been found in mass graves in the last few years, many of them in the northern state of Durango and Tamaulipas.
Marines went to the reported grave sites after a suspect identified as Juan Francisco Alvarado Martagon gave information to the authorities.
Initially 10 bodies were found but officials later said a total of 15 victims had been recovered.