Colombia emerald tsar Victor Carranza investigated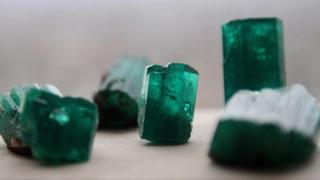 Prosecutors are investigating a businessman who controls much of Colombia's emerald trade for suspected links with paramilitaries.
Prosecutors say they are trying to find out if Victor Carranza financed a number of paramilitary groups in Colombia in the 1990s.
The investigation was launched after jailed paramilitary members reportedly gave evidence of meetings between Mr Carranza and paramilitary leaders.
Mr Carranza has denied any wrongdoing.
The Prosecutor General's office said it had opened a preliminary investigation into Mr Carranza following evidence given by former paramilitary leader Fredy Rendon Herrera.
Rendon, also known as "The German", was giving evidence as part of his demobilisation from the United Self-Defence Forces of Colombia (AUC), a paramilitary umbrella group.
'Financial backer'
According to Rendon, Mr Carranza contributed funds to the right-wing paramilitary groups which were active in Colombia's eastern plains in the 1980s and 1990s.
"At first, the group was supported by local cattle ranchers, land owners and businessmen... Later, it was mainly financed by the logistical and financial support of the emerald dealer Victor Carranza, a known member and supporter of the Autodefensas de Henry Perez (paramilitary group), and co-founder in 1997 of the United Self-Defence Forces of Colombia," Rendon said.
Mr Carranza has always denied having links with the paramilitary groups.
He has in the past said that rather than collaborating with them, they had extorted money from him.
Mr Carranza has also pointed to the assassination attempts against him by former paramilitaries as evidence that he is not on good terms with them.
'Spectacular attack'
In the latest attempt on his life in 2010, members of a gang led by former paramilitary leader Pedro Guerrero, known as "the Knife", drove a petrol truck into the convoy of armoured cars taking Mr Carranza and his son back from the emerald mines in Puerto Lopez to his home in the city of Villavicencio.
Mr Carranza managed to escape unharmed from the firefight which followed.
The paramilitary groups, originally created to fight left-wing rebels, often resorted to extortion and drug trafficking to finance themselves.
They also committed a series of massacres, moving into villages and killing anyone they suspected of sympathising with left-wing rebels.
They demobilised in 2006 under a peace agreement with the government.
It is under the terms of this peace agreement that former paramilitary leaders, such as Rendon, have been giving evidence of their time in the illegal groups.
Mr Carranza owns some of the most lucrative emerald mines in Colombia, a country which produces around 60% of the world's emeralds.