US missionaries killed at Mexico home near Monterrey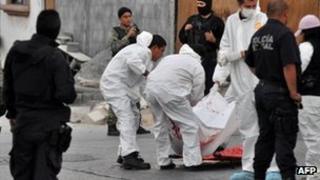 An American missionary couple have been slain in their home near the northern Mexico city of Monterrey.
John and Wanda Casias, who ran the First Fundamentalist Independent Baptist Church in the town of Santiago, were found dead by their son.
According to family's website, the couple had moved from Texas to the Monterrey area in 1983.
It is the second killing in a year near the Mexican border region involving American missionaries.
In January 2011, Nancy Davis, 59, was killed after an attack at an illegal roadblock in one of the country's most violent areas.
Davis and her husband Sam, had been involved in missionary work in Mexico for 30 years.
Botched robbery?
Shawn Casias told the Associated Press news agency he visited his parents' home around 16:00 local time on Wednesday to pick up a trailer.
When he went inside the house, he found Wanda Casias lying on the floor with an electrical cord around her neck and a gash on her head.
A plasma television, computers and a safe - chiselled out of the wall - had been taken from the house.
A forensic investigator later told Mr Casias that his father's body was found in much the same way in another small building on the property.
Mr Casias said his parents' home had been broken into two years ago while the couple visited the United States.
"We're convinced that it's somebody he knew," he said.
John Casias, 76 and Wanda Casias, 67, held services and prayer meetings regularly at the church about 3 miles (5km) from their home, and kept up a website about their lives and missionary work.