Deadly attack on Colombia police station kills seven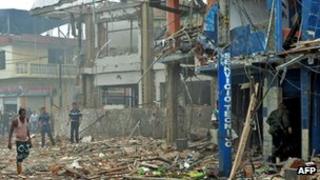 The Colombian Red Cross says at least seven people have been killed and 70 injured in an attack on a police station in the southern city of Tumaco.
A motorcycle laden with explosives was driven into the police station in the centre of the Pacific port city.
Police officials say Colombia's left-wing Farc rebel group was behind the attack.
The officials say they believe the rebels were targeting regional police commander Gen Jorge Nieto Rojas.
Gen Nieto Rojas was not hurt in the attack.
Tumaco is one of Colombia's most lawless cities, where drug trafficking gangs and leftist rebels fight for control of the lucrative Pacific coast drug smuggling routes.
In the deadliest rebel attack of 2011, Farc guerrillas ambushed and killed 10 soldiers near Tumaco in October.
And in July, more than a dozen prisoners escaped from the city's jail after Farc rebels blew a hole in the prison's perimeter wall.
The Marxist-inspired Farc has been active since the early 1960s.
It has been severely weakened by military offensives and the killing of two of its top leaders, but remains capable of carrying out attacks, in part due to cash raised through its involvement in the illegal drugs trade.