'No abuse charges' for Haiti's Baby Doc Duvalier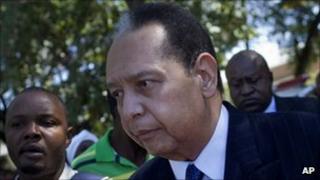 Haiti's former leader Jean-Claude "Baby Doc" Duvalier should face trial on corruption charges but not for human rights abuses, a Haitian judge has said.
The magistrate indicated that torture and murder committed during Mr Duvalier's 1971-86 rule fell outside Haiti's statute of limitations.
Human rights groups have condemned the decision and say they will appeal.
Mr Duvalier, 60, returned to Haiti a year ago after 25 years in exile.
He has denied allegations that he was responsible for the torture and murder of thousands of people and embezzled hundreds of millions of dollars from the impoverished nation.
His lawyers have called for all charges against him to be dismissed.
Magistrate Carves Jean revealed his recommendation as he submitted it to the court in the capital Port-au-Prince.
He said the statute of limitations had run out on charges of human rights abuses but not for the alleged misappropriation of public funds, but gave no further explanation.
International law
Haitian and international human rights groups have rejected this interpretation and promised to appeal, arguing that the judge had wrongly ignored testimony detailing torture and murder.
"Those who were tortured under Duvalier, those whose families were killed or simply disappeared, deserve better than this," Reed Brody of Human Rights Watch told the Associated Press.
Other activists said Haiti had an obligation under international law to put Mr Duvalier on trial.
UN officials have previously argued that the statute of limitations cannot apply to crimes against humanity.
The final decision on what charges - if any - the former leader will face will be taken by Haiti's attorney-general.
Correspondents say Haiti has a weak judicial system with little experience of prosecuting major crimes.
Jean-Claude Duvalier was just 19 when he inherited the title of president-for-life from his father, Francois "Papa Doc" Duvalier, who had ruled Haiti since 1957.
Like his father, he relied on a brutal militia known as the Tontons Macoutes to control the country.
In 1986 he was forced from power by a popular uprising and US diplomatic pressure, and went into exile in France.
His surprise return to Haiti in January 2011 after 25 years in exile shocked many Haitians.
In February the Swiss authorities froze millions of dollars in bank accounts thought to belong to Mr Duvalier, and said they would try to divert them to earthquake relief.