Cuba Communist Party conference considers term limits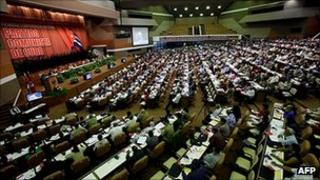 Cuba's ruling Communist Party is holding its first national conference, with 811 delegates meeting behind closed doors in Havana.
The conference is considering plans to limit Cuban leaders to two five-year terms in office.
It is also to discuss age limits for senior officials, in an effort to renew the ageing revolutionary leadership.
The political debate follows widespread economic reforms that have boosted the role of private enterprise.
Cuba is a one-party state, and the constitution defines the Communist Party as the "supreme leading force of society and the state".
According to an official document, the conference will conduct "an objective and critical evaluation" of the Communist Party's work and consider the need for "internal criticism and debate".
The BBC's Sarah Rainsford in Havana says it is expected to call on party organs to step back from everyday matters of governance and business.
'Change in mentality'
The proposal to limit leaders to two five-year terms - put forward by President Raul Castro at a party congress last April - would mark a dramatic change in Cuba.
President Castro, 80, took over power in 2008 from his brother Fidel, who ruled the country for almost half a century.
He has also proposed an age limit for senior officials, admitting that party leaders had not done enough to find younger successors who would maintain the socialist ideals of the revolution in the future.
Mr Castro has spoken of the need for "a change in mentality" in the party if the economic reforms are to succeed.
The reforms have seen tens of thousands of workers laid off by state controlled industry and encouraged to set up small businesses.
Cubans are also now allowed to buy and sell property and cars and employ other Cubans in private businesses.