Paraguay President Fernando Lugo gets cancer all-clear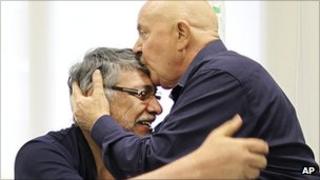 Paraguayan President Fernando Lugo has made a full recovery from cancer, doctors treating him in Brazil say.
Follow-up tests confirmed that his lymphatic cancer was in "complete remission", the Syrian-Lebanese hospital in Sao Paulo said.
Mr Lugo, 60, was visited by the former Brazilian President Luis Inacio Lula da Silva, who is being treated for throat cancer at the same hospital.
He returned home to Paraguay after being given the all-clear.
Mr Lugo was diagnosed with cancer in August 2010 and had several chemotherapy sessions in the Sao Paulo hospital.
The former Roman Catholic bishop turned left-wing politician was elected president of Paraguay in 2008, ending six decades of conservative rule.
He is one of several Latin American leaders to have treatment for cancer in recent years.
Venezuelan President Hugo Chavez says he is cancer-free after having surgery and chemotherapy in Cuba last year.
Argentine President Cristina Fernandez de Kirchner had an operation for suspected thyroid cancer earlier this month, only for post-operative tests to show she did not have cancer after all.
Former Brazilian President Lula is currently undergoing radiotherapy and is expected to make a full recovery from throat cancer.
Current Brazilian President Dilma Rousseff is fully recovered after having treatment for lymphoma at the same Sao Paulo hospital in 2009.