Funeral for Brazil Rio building collapse victim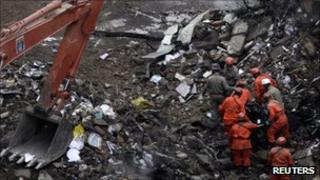 The first funeral has taken place for a victim of Wednesday's building collapse in Rio de Janeiro in Brazil.
Friends and relatives wept as office worker Celso Renato Braga Cabral, 46, was buried in the Botafogo district.
So far, 14 bodies have been recovered from the rubble of the three buildings that collapsed, but about 12 people are still missing.
Officials are investigating whether the disaster was caused by unauthorised building work in the tallest structure.
The authorities suspect that unauthorised works weakened the 20-storey office building, whose sudden collapse on Wednesday evening brought down two neighbouring structures.
Rescue workers are still searching the twisted wreckage of masonry, steel and glass in Rio's historic centre.
Several bodies have been found in an area where a computer training class was being held at the time of the collapse.
Six people were rescued from the rubble, but rescuers say there is little hope of finding anyone else alive.
Officials said the search would continue for two more days.
'Family man'
More than 100 people attended the funeral of Mr Braga Cabral, who worked for a technology company based in the 20-storey building.
His coffin was draped with the flag of the Rio football club, Flamengo.
"He was a man devoted to his family, to his job," his friend Roberto de Oliveira said.
"You can see that when the building collapsed he was working late."
Rio de Janeiro State governor Sergio Cabral has declared three days of mourning for the victims.
The disaster has prompted concern about the condition of Rio de Janeiro's infrastructure, as Brazil prepares to host football's World Cup in 2014 and the Olympic Games in Rio in 2016.