Guatemala ex-leader Rios Montt to face genocide charge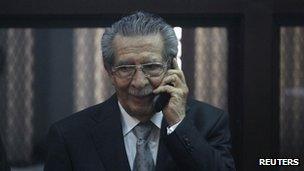 Ex-Guatemalan military leader Efrain Rios Montt is to be tried for genocide and crimes against humanity.
Gen Rios Montt, 85, was in power from 1982-1983, when some of the country's worst civil war atrocities occurred.
Whole villages of indigenous Mayans were massacred as part of government efforts to defeat left-wing rebels.
Gen Rios Montt, who has denied ordering massacres, refused to comment in court. But a judge ruled he had a case to answer, placing him under house arrest.
As a congressman, Gen Rios Montt had enjoyed immunity from prosecution for 12 years. The immunity was lifted on 14 January 2012, when his term in office ran out.
Gonzalo Rodriguez Galvez, a lawyer for Gen Rios Montt, told Prensa Libre newspaper he was sure the former general was not responsible for the alleged crimes "since he was never on the battlefield".
However, prosecutors argued a rigid chain of command in the military at the time meant the general was responsible, even though he was not present at the killings.
Manuel Vasquez said he could present documents, videos and statements accusing Gen Rios Montt of "planning, designing and overseeing the military counter-insurgency plans against the indigenous population in Ixil de Quiche".
Mr Vasquez accused Gen Rios Montt of being behind 100 massacres in which 1,771 people were killed and 29,000 displaced.
The BBC's Will Grant, reporting from Mexico, said that while the court's decision would please many in Guatemala, others would have preferred the issue to remain buried.
It would open up serious wounds, particularly given that current President Otto Perez Molina had served under Gen Rios Montt during the 1980s, he added.
Human rights activists and relatives of the victims of Guatemala's 36-year-long civil war gathered outside the court before the hearing, holding signs reading "No impunity".
Victims' relatives and activists had welcomed the preliminary hearing. They said they had been encouraged by the sentencing last August of four former soldiers for the massacre in the village of Dos Erres in 1982.
The four, the first former soldiers to be convicted for human rights abuses, received 30 years for each of the 201 victims.
An estimated 200,000 people were killed or went missing during Guatemala's civil conflict, which ended in 1996. Gen Rios Montt's 17 months in power are believed to be one of the most brutal periods of the war.