Venezuela's Leopoldo Lopez pulls out of election race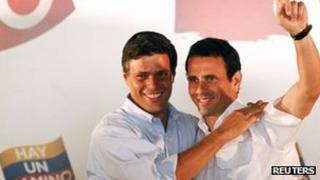 Venezuelan politician Leopoldo Lopez has pulled out of the presidential race, saying he is supporting Henrique Capriles as the opposition's candidate to take on President Hugo Chavez.
The opposition is due to hold a primary election on 12 February to settle on a single figure to run in October's election.
In previous polls, the opposition has been beset by internal squabbling.
President Chavez, in office for nearly 13 years, is aiming for another term.
Mr Lopez's announcement is a major boost to Mr Capriles who is leading the opinion polls to win the opposition's nomination.
"You will be the next president," said Mr Lopez as the two men embraced at a news conference.
Mr Capriles, 39, is currently the governor of Miranda, the country's second most populous state.
There are four other contenders to be chosen as the opposition's unity candidate: Pablo Perez, the governor of Zulia state, congresswoman Maria Corina Machado, former ambassador Diego Arria and former trade union leader.
President Chavez has repeatedly dismissed the opposition as stooges of the US and the wealthy.
"They're all the same, they're all the candidates of the rancid, radical bourgeoisie. They are the candidates of the Yankee empire," Mr Chavez said during his weekly television programme.
President Chavez, who has been in the post since 1999 and has been treated for cancer, is aiming to secure a further six years in office.
Recent opinion polls suggest he still has the support of just over 50% of the population, making him the favourite to win the election.
Heavy spending on housing and welfare - funded by Venezuela's oil wealth - has helped sustain his traditional support base among the poor.