Salvadoran President Funes criticised for police choice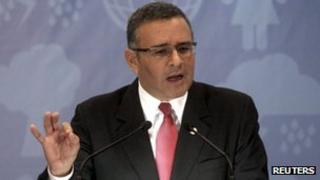 The governing party in El Salvador has criticised President Mauricio Funes for naming an army general as the new head of police.
The Farabundo Marti National Liberation Front (FMLN) said having a member of the military in charge of the police force was unconstitutional and in violation of the 1992 peace accord.
Mr Funes is himself a FMLN member.
He defended his decision, saying Gen Francisco Salinas would deliver the security Salvadoran citizens demanded.
Gen Salinas was sworn in on Monday, replacing Carlos Ascencio, who stepped down to take up a post in the foreign service.
"The choice of General Salinas is another step towards the dismantlement of the democratic and civilian doctrine behind our public security, and openly contravenes the peace accords and the constitution," the FMLN said in a statement.
The FMLN argues that no member of the military should head the police, a force it says is defined as civilian in the constitution.
The FMLN was founded by Marxist guerrillas who fought the US-backed government in the 1980s.
It was a signatory to the 1992 UN-backed peace accord which put an end to 12 years of civil war.
'Militarisation'
Human rights groups were also critical of the new head of police.
Director of the Human Rights Institute at the Central American University Benjamin Cuellar said "betting on the Armed Forces as a solution to our problems" would land El Salvador in a war on drugs which "is already lost and whose victims will be on our doorstep".
President Funes said choosing Gen Salinas to head the police was in no way a militarisation of the organisation, nor did it violate the peace accord.
He said the General had already requested his retirement from the Armed Forces and was therefore a civilian.
The President said high levels of violence and the rising influence of Mexican drug cartels in El Salvador had forced him to take "stronger institutional measures".
Gen Salinas is the second military man to be chosen for high office by President Funes.
In November, Gen David Munguia Payes was named Minister of Justice and Public Security.