Six killed in failed bid to spring prisoners in Mexico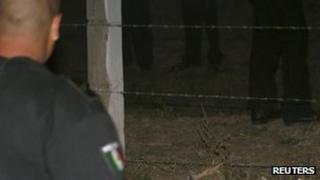 Six people, five of them policemen, have been killed in a failed attempt to free two detainees in central Mexico.
The officers were transporting the two suspects when they were ambushed by unknown gunmen in a car in Ixtapaluca, near Mexico City.
Officials said the gunmen were trying to free the two detainees, one of whom was killed, the other one injured.
The area around the capital has seen an increase in drug-related violence as new criminal gangs emerge and expand.
Officials said five members of the municipal police force of Ixtapaluca had detained two suspects in San Francisco Acuautla, in Mexico state.
As they were transporting the detainees in two patrol cars, they were cut off by another vehicle. The gunmen on board opened fire, killing five officers.
In the firefight, one of the detainees was also killed, and the other one injured.
Officials said no arrests had been made, but the injured detainee was being held in hospital.
Police have not released the identity of the two detainees, or the reason for their arrest.
Mexico state, which had been spared the high levels of violence seen in the northern states bordering the US, is experiencing a rise in killings as criminal gangs extend their operations to areas around the capital.