Ecuador court suspends Correa libel case hearing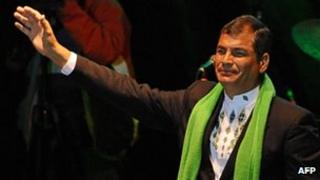 A court in Ecuador has suspended hearing an appeal lodged by newspaper editors who are facing $40m (£25m) in damages and three years in jail for libelling President Rafael Correa.
The hearing was called off at the last-minute after a judge fell ill.
Ahead of the appeal, the editors of El Universo said they were ready to apologise but with conditions.
Responding via Twitter, Mr Correa said the men should apologise for their "monstrous calumnies".
The case has focused attention on the freedom of Ecuador's media.
Tuesday's appeal hearing, expected to be attended by President Correa, had been eagerly anticipated.
But just before proceedings were due to start, it was announced that one of the three judges at the Natinal Court of Justice was sick.
This means the case will now be heard by a newly constituted national court, which takes office on Thursday.
It was the latest twist in a libel action brought by Mr Correa last year after El Universo, the main opposition newspaper, published a column that questioned an army raid to rescue him from a violent protest by striking policemen.
Mr Correa insisted the unrest in September 2010, which saw him trapped inside a hospital for several hours by the officers, was an attempted coup.
Journalist Emilio Palacio, in an article the following February, said the president had ordered soldiers to fire on the hospital, which was full of civilians.
Mr Palacio and the three newspaper owners, Carlos, Cesar and Nicolas Perez, were sentenced to three years in jail each.
The judge also imposed a $30m fine against the three, as well as an additional $10m fine against the newspaper.
The paper later tried to reach an out-of-court settlement and offered to print a correction, but Mr Correa turned both down.
'Drop lawsuits'
The libel case has been criticised by press freedom groups as part of an effort to muzzle the media in Ecuador.
Mr Correa, for his part, has accused much of the media in his country of being corrupt and of manipulating the truth.
Carlos Perez told a news conference on Monday that they were ready to sign an apology but with conditions.
The government, he said, should cease all lawsuits against journalists "to allow us to do our job normally", and comply with the law regarding public access to information.
President Correa's administration should also consult the Inter-American Court of Human Rights regarding a proposed new media law to ensure it complied with international treaties, he said.
Mr Correa, who indicated that he would withdraw his complaint if the men issued an apology, asked why they were imposing conditions.
"If there is justice, the motion to dismiss the case should be rejected and the sentence ratified," he wrote on Twitter.